[Page 4]
LESSONS FROM 1981
The outcome of the 1981 Public Inquiry was in effect an invitation to "think again and come up with a better scheme" for westward expansion at Cairngorm.
So how do the new proposals differ from those turned down in 1981, and how have the objections made then been taken into account?
Then....
In 198 I the proposals would have catered for 4,000 additional skiers in the Northern Corries of Coire an t-Sneachda and Coire an Lochain, as well as Lurcher's Gully
and Now
Today's proposals will cater for only 1,200 skiers in Lurcher's Gully itself, with a few hundred beginners on the new nursery slopes. These will not be additional skiers, but spread from other runs.
In 1981. new car parks were planned for an additional 1,000 cars, which would have added up to 4,000 skiers to the slopes
Today there are no proposals to create new car parking, so maximum skier capacity will not be increased.
The 1981 proposals included ski-lifts. ski-tows and buildings in the two Northern Corries of Coire an t-Sneachda and Coire an Lochain.
Today there are no such proposals. The Cairngorm Chairlift Company recognises the conservation value of the Northern Corries, and their use by mountaineers, walkers, and cross-country skiers.
In 1981 the ski-tow in Lurcher's Gully was planned to run prominently along the ridge, and the buildings were visible from many angles
Today's proposals conceal the ski-tow within the Gully, and the single multi-purpose building has been kept at low level. It is sited in a hollow where it is naturally shielded from view.
The new plans differ from the 1981 proposals both in scale and in sensitivity-much smaller scale, and much greater sensitivity to impact on scenery, the environment and other users of the area.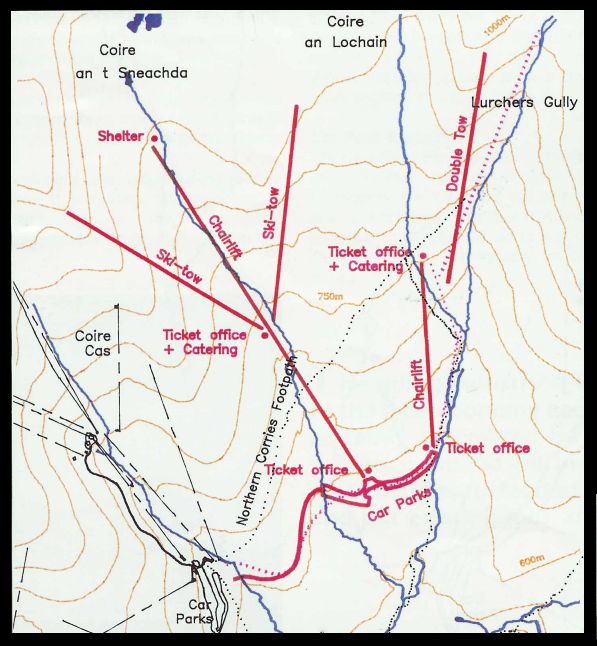 The 1981 Plans
"WHEN IS A ROAD NOT A ROAD"
The most contentious part of the new plans is inevitably the access by any form of road-it runs against a "presumption" in the National Planning Guidelines against "road extensions beyond the present. car parks" at Cairngorm. But a "presumption against" is not a prohibition
It simply tells a Planning Authority that a particular feature should not be allowed unless it can be shown to have positive advantages over all other alternatives sufficient to overcome the Initial presumption
The practical alternatives to a road for access are ski-tows or a chairllft or gondola system.
Why not a Ski-tow?
Because of their low altitude, ski tows between COlre Cas and Lurcher's would need extensive snow fencing which would be visually intrusive. Supplying the faCIlities at Lurcher's, evacuation of casualties and general evacuation in deteriorating weather conditions would be more difficult.
Even with continuous snow fencing, access tows would lose their snow cover when the Gully still had many weeks of sklng left. Most important beginners who could not yet use ski tows would be denied access to the nursery slopes which a road would open up.
Why not a Chairlift or Gondola
A chairllft or gondola system also has disadvantages The necessary pylons in a straight line would be very visible, and It would be vulnerable to high winds. Access to the new nursery slopes would only be possible from either end of the system.
Private access
With no public access a private shuttle-bus road can be a narrow single track road, reducing its visual impact. With present-day practices it can be made very unobtrusive and designed to follow the contours of the hill.
A road would be kept operational even in very severe conditions by the Company's own snow­clearing equipment. Supplying the area, evacuating casualties and general evacuation would be as straightforward as possible.
Operationally the road is clearly superior to either ski-tows or a chairlift or gondola, especially for beginners Only the shuttle-bus road option can effectively open up the much needed nursery areas.
So the Cairngorm Chairlift Company is convinced that the particular advantages of the shuttle-bus road will be strong enough to overcome th!!, presumption against road extensions in general.
Edited 1 times. Last edit at 14.29hrs Thu 22 Jun 06 by alan.